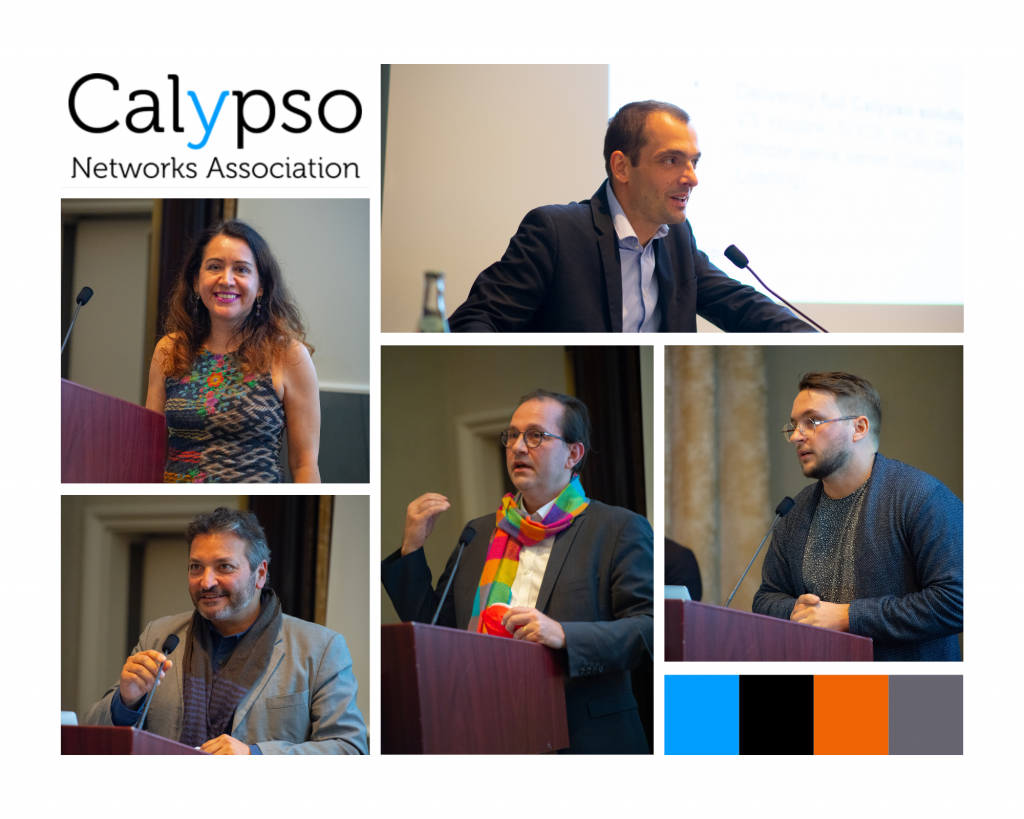 Celebrating Calypso and its role supporting ticketing innovation at the 2021 Open Session
To end another important year in transport ticketing, CNA hosted its 2021 Open Session in Paris on 1 December. Five CNA members presented to the attendees their unique solutions developed using Calypso's open standards.
The presentations showcased the critical role that our standards are playing today to support innovation and fuel a sustainable future. Here we share with our full community a brief overview of each 'pitch', and if you would like find out more about these implementations, please get in touch.
Simple, multimodal mobility with Flowbird,
François Mottet, Group Operational Marketing
One of the key elements supporting the future of ticketing is how to provide travellers with an integrated experience. So, whether it is with a bus or train ticket, paying for parking or any other payment acceptance service as part of the mobility experience, making it joined up and seamless is crucial.
Using a variety of solutions in the Calypso portfolio: Calypso V3, Hoplink, SOCS, HCE and Calypso Remote Loading, Flowbird, with its hardware and software offering, has already made significant progress in this space. Over the past five years, it has supported over 22 ticketing projects with over 100 clients across 16 nations, unlocking a smarter ticketing experience for millions of passengers.
Rethinking Point of Sale (PoS) terminals with RATP Smart Systems,
RATP Smart Systems' new PoS terminal hardware and software replaces a 25-year-old system in an innovative and scalable way. On the surface, touch-screen technology offers a more intuitive user experience. Behind the scenes, RATP turned to Eclipse Keyple, a free, ready to use open-source software development kit that reduces the burden on developers when they are developing terminal software in a way that's similar to plug-and-play. By using Keyple with this project, the developers could focus more on being innovative with areas like the Graphical User Interface and system performance as well as work with other innovators who were not Calypso experts while opening doors to a wider choice of hardware suppliers.
An Olympic contactless ticketing solution in Paris with Watchdata,
Franck Balestrieri, EMEA Sales Director


Soon, the Greater Paris region will launch a new electronic contactless ticketing aimed specifically at the more casual passenger. Using Calypso Light, this new solution implements seamlessly with the exiting ticketing infrastructure. Passengers will be able to reload remotely their contactless card, avoiding the risk of large queues at kiosks, while supporting the region's green credentials by using eco-friendly materials. This new solution will be key when the city will host hundreds and thousands of additional sports fans for the 2024 Paris Olympics all relying on secure, reliable and convenient ticketing.
Innovating the future of ticketing smartcards with Thales,
Maria Ramirez, Product Manager, Transport Cards


Cards will always make up part of the ticketing ecosystem, and with the transport ticketing ecosystem dominated by supporting trends such as MaaS Account Based Ticketing (ABT) and the continued need for security and reliable performance, innovating smartcards is essential. This is why Thales turned to Calypso Prime to develop the G2 PKI, which links a personal transport smartcard with a host of other value-added features, such as mobile remote reloading, ABT linkage, multimodal travel while using the same Calypso infrastructure and simple, reliable cardholder authentication.
Integrated mobile ticketing with Wizway,


With millions of passengers using their phones daily for multiple use cases, mobile-based ticketing relying on trusted NFC technology is the next logical step for the transit ecosystem. However, different standards among different manufacturers mean making m-ticketing a reality is a challenge. By using the Calypso HCE Interoperable Application (HCIA), Wizway has supported passengers in Strasbourg access reliable, secure and integrated ticketing on their smartphones, regardless of the make or model of device they use.