Calypso Networks Association (CNA) is a global association for the contactless ticketing community.
CNA regulates the use of Calypso technology, and delivers expert services, to promote open standards and enable their use across local, regional, national and global ticketing requirements.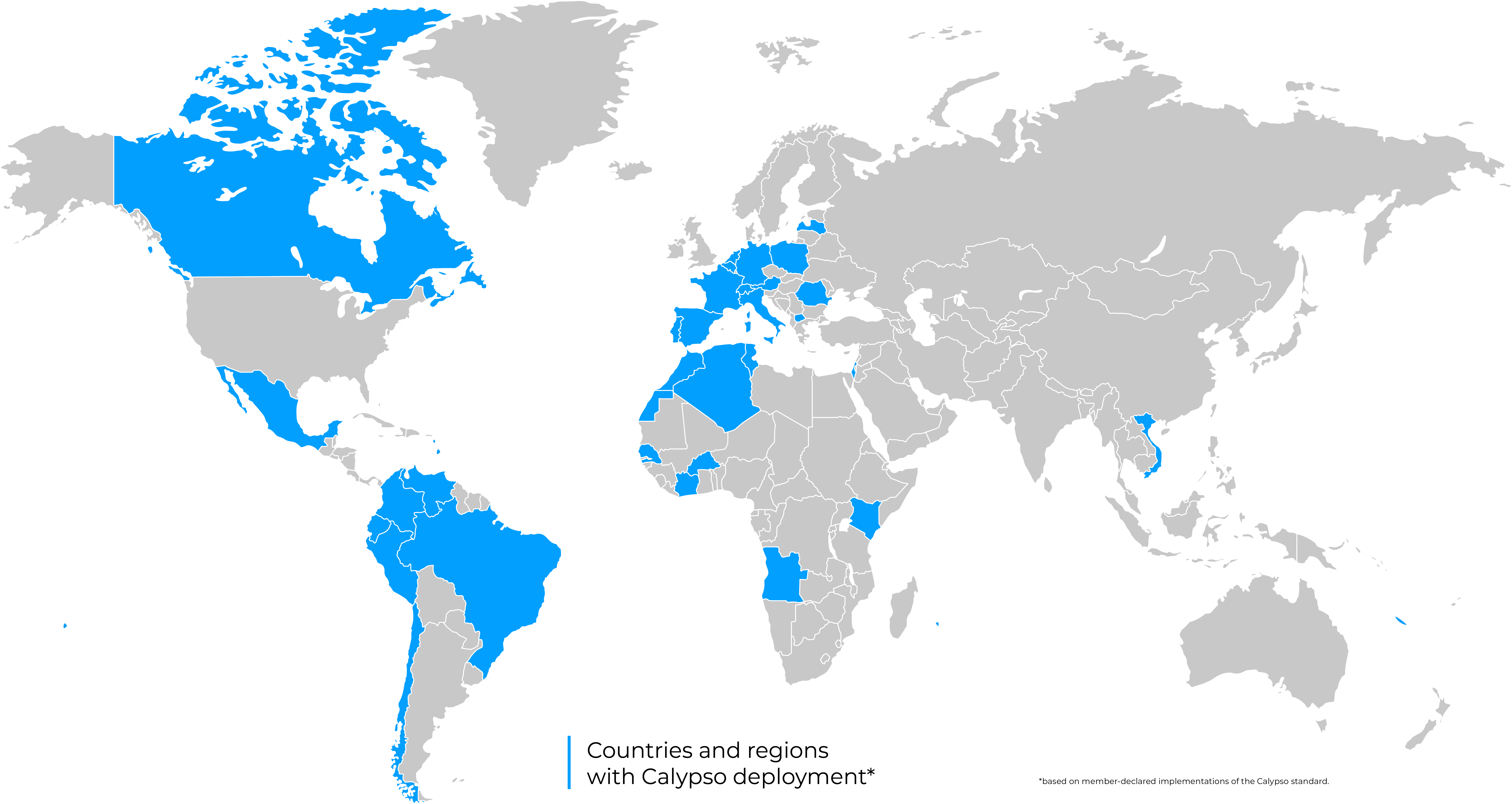 Calypso's global presence
As of the beginning of 2023, the Calypso standard is deployed in 29 countries worldwide. With more than 40 manufacturers engaged with Calypso, 55 products certified and 3 independent sources of chips, PTOs and PTAs have confidence that they will not be locked-in by a single vendor.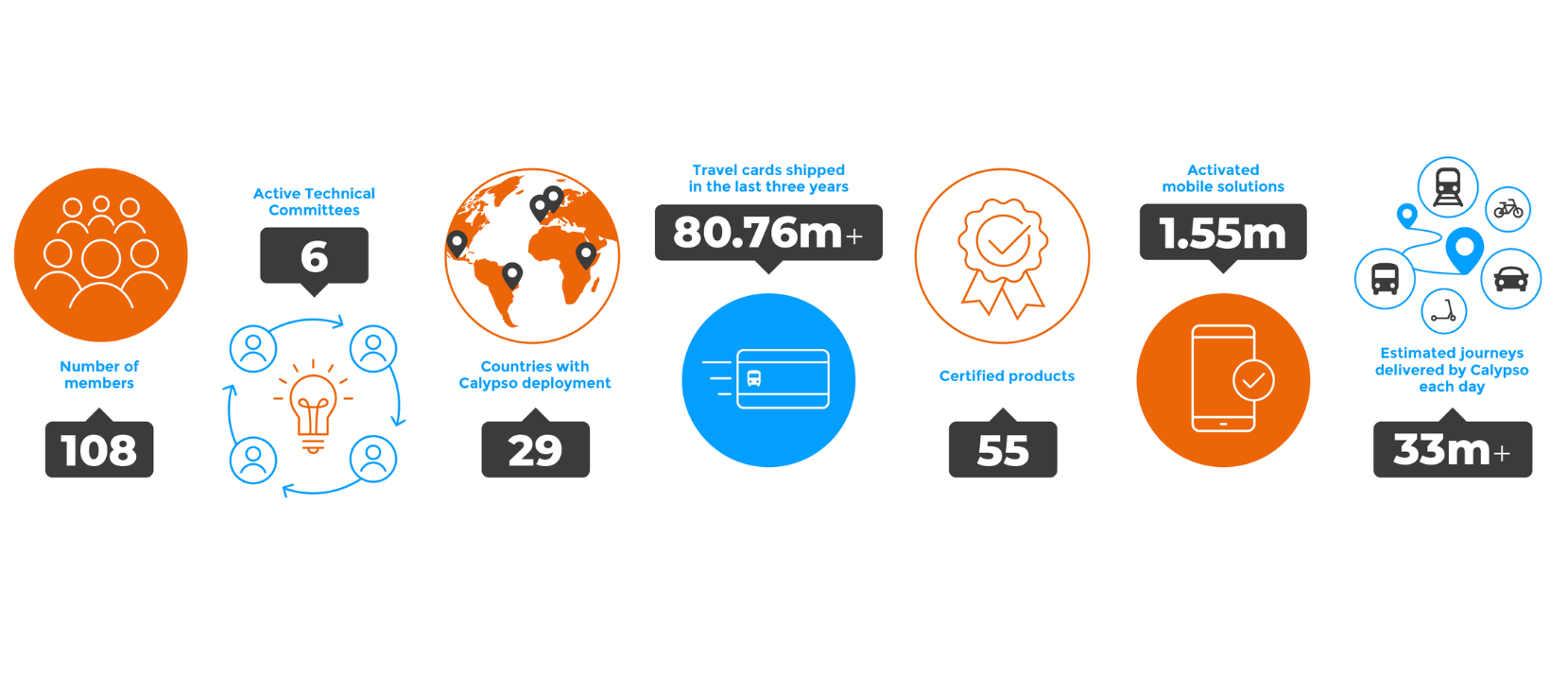 *Figures correct as of February 2023.
Calypso around the world
Calypso promotes open standards to give transport authorities and operators control of their ticketing network, wherever they are in the world. Deploying Calypso open standards technology enables them to cater for both regular and occasional travellers and future-proof their network as consumer expectations evolve.
Calypso is flexible in meeting all ticketing requirements, whatever the needs of operators or authorities. Whether your ticketing is: media-based or account-based; mobile or card-based; fixed-price subscription or pay-as-you-go; check-in or check-in/check-out; multimodal and/or multi-operator; or so much more, Calypso guarantees you can deliver for customers every time.
Learn how Calypso is empowering transport organisations around the world :
Download the Calypso Live eBook
Casablanca Transport Network, Morocco
The Casablanca Transport Network ticketing system is based on Calypso technology and managed by Casatrans. It offers a wide range of services to the citizens and promotes multi-modal travel.
Learn how open standards enable collaboration with independent partners and how Calypso is future-proofing the network with smart cards and mobile ticketing.
Ile-de-France mobilités, Paris region, France
On the Paris public transport network, it is possible for customers to buy and validate their transport tickets on their NFC smartphone. Parisian customers can now also reload their 'Navigo' transport pass using Apple Pay and NFC via the updated Île-de-France Mobilités app.
This is enabled by the Calypso APPLET technology, which is hosted in an embedded Secure Element (eSE) located in a connected consumer device, and using the Calypso-HCE solutions for Android smartphones.
MOBIB, Belgium
The MOBIB smart card is a part of a fully interoperable scheme that allows each Belgian operator (STIB/MIVB, SNCB, TEC and De Lijn) to implement their own specific or interoperable tariffs. It is used nationwide across the Belgian ticketing system and provides consumers with a user-friendly and up-to-date payment system for travel.
Learn how a common specification, based on Calypso, enables each operator to independently manage its tender for its ticketing system, with a completely free choice of provider and full interoperability.
Movilidad Integrada, Mexico
Calypso technology enabled Mexico City to move to a fully integrated system. CNA worked closely with local transport operators and other mobility services to help establish a common brand, comprising multiple organisations working collaboratively.
The Calypso Prime card allows the Movilidad Integrada system to have a common electronic wallet, which is shared by all mobility operators together with products tailored specifically for each member of the mobility ecosystem and specific usage profiles.
OPUS, Canada
OPUS is the ticketing smart card used for transport across the Quebec Region, including Quebec and Montreal, with over 4.5m cards in circulation. It enables remote reloading of funds to minimise contact points and speed up passenger flow at transport terminals.
Learn how Calypso supports the facilitation and security of transport ticketing transactions for the third-largest transport network in North America.
SNCF, France
SNCF offers passengers multi-modal travel from one single smart card, enabled by Calypso technology. Interoperability is critical for SNCF as it must work across different French regions and with multiple independent operators.
Learn how Calypso is supporting SNCF with national interoperability and how its industry-leading security gives confidence to PTOs and PTAs across regions.
Strasbourg, France
Strasbourg operates the most important multi-modal transport network in France. Run by CTS (Compagnie des Transports Strasbourgeois) it operates a mobile ticketing service that improves access to public transport and simplifies the lives of its customers by avoiding queues.
Learn how Calypso supports the U'GO mobile application, which offers a secure service for purchasing and validating tickets, and allows customers to choose the ticket best suited to their budget.
VIVA Lisboa, Portugal
Lisbon's VIVA is a contactless, multi-modal ticketing system serving the Portuguese capital's 3.5 million population. The region's complex transport network needed an adaptable system to support over 3000 different tariffs across transport types.
Learn how Calypso enables a consistent ticketing experience from 22 companies across transport, parking and multi-service operators.