Calypso Networks Association (CNA) is the governing body of Calypso technology. Calypso is an open, secure ticketing standard that promotes innovation and is used in more than 25 countries and over 170 cities globally. It has been designed by transport operators for transport operators to ensure long-term usability.
As the needs, expectations and behaviours of travellers are so diverse, it is impossible to meet them all with a single ticketing solution. To reflect this, the Calypso standard supports a wide product portfolio to accommodate all traveller needs, regular or occasional, in any configuration, media or system.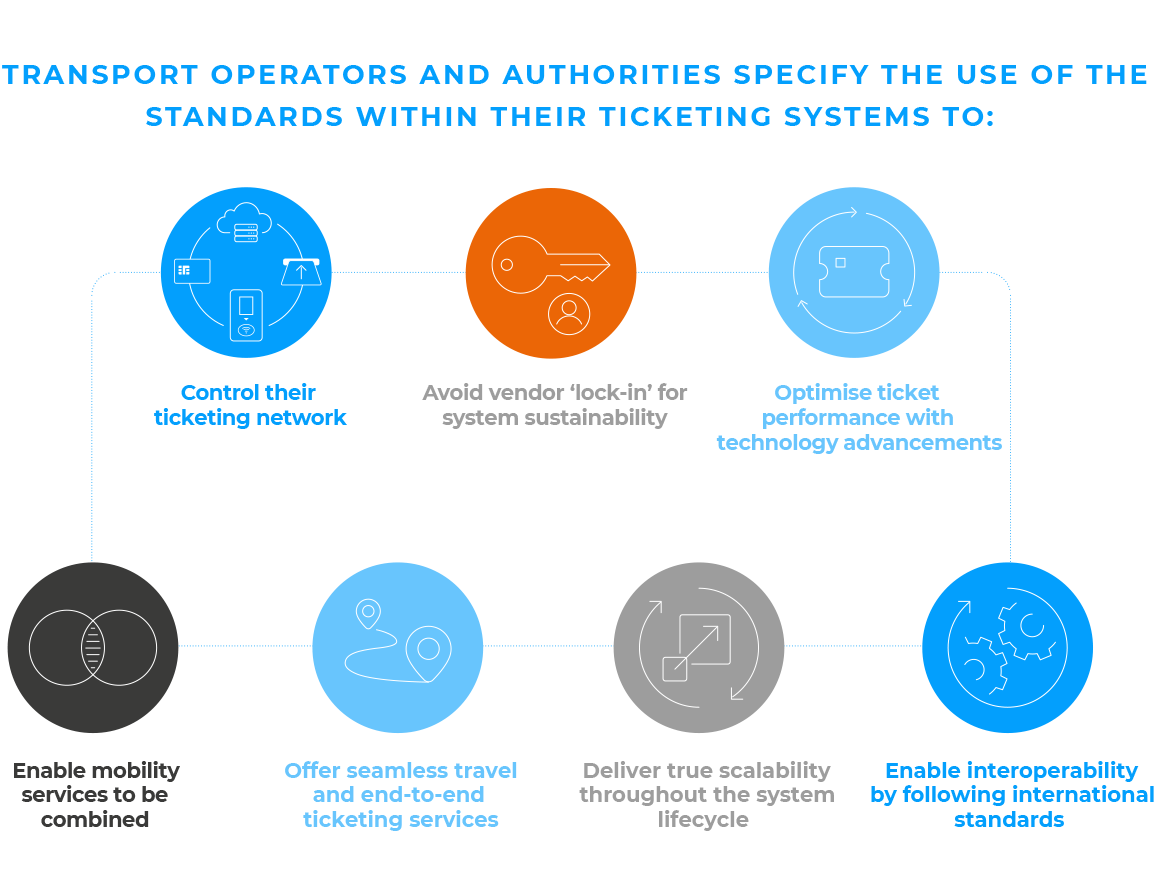 What do the Calypso specifications do?
Calypso details how to securely transmit a ticket's data between a traveller's card, a phone or watch for example, and a transport/mobility authorities' ticketing reader – such as an access control barrier, vending machine, handheld reader. The specifications cover card personalisation, purchase, reload, validation and control of tickets and transport contracts.
All Calypso products are based on existing standards to ensure seamless integration and support global interoperability. Using chips and near-field-communication (NFC) technology, it is a 'contactless' standard that supports fast throughput at transport locations during peak commute times, taking approximately 120 milliseconds to transact.
Calypso enables transport operators to effectively fight fraud as tickets cannot be duplicated, transferred or altered. Prior to any modification being made to a ticket hosted on a Calypso product, the Calypso chip is authenticated by the reader, as well as the reader being authenticated by the chip. To date, no Calypso card has suffered a security breach.
What are the specifications for?
Manufacturers use the specifications as a baseline on which to develop secure ticketing and access control products that can integrate into established systems; across different modes of transports (bus, train, parking); different transport networks (across regions and cities); and international borders.
Transport operators and authorities specify the use of the standards within their ticketing systems to:
Control their ticketing network.
Avoid vendor 'lock-in' as multiple manufacturers provide Calypso products and ensures system sustainability.
Optimise ticket performance as Calypso evolves with the latest technology advancements.
Enable mobility services to be combined.
Offer seamless travel and end-to-end ticketing services.
Deliver true scalability, as the Calypso community evolves and adapts the ticketing technology throughout a systems entire lifecycle.
Enable interoperability from the base of the system by following international standards.
Where can I buy Calypso products?
Multiple manufacturers provide Calypso card, chip and system products.
All card products require functional certification to confirm that they connect with a reader in the same manner regardless of supplier. The majority of chip products must also achieve an EAL4+ security evaluation or dedicated security guidelines.
This level of certification provides a trusted platform and guarantees the sustainability, scalability and compatibility of ticketing products.
How to access the Calypso specifications
All Calypso specifications are available here on calypsonet.org.
To download the specifications, you need to register or sign a NDA for security purposes.
Contact us here if you have any questions.