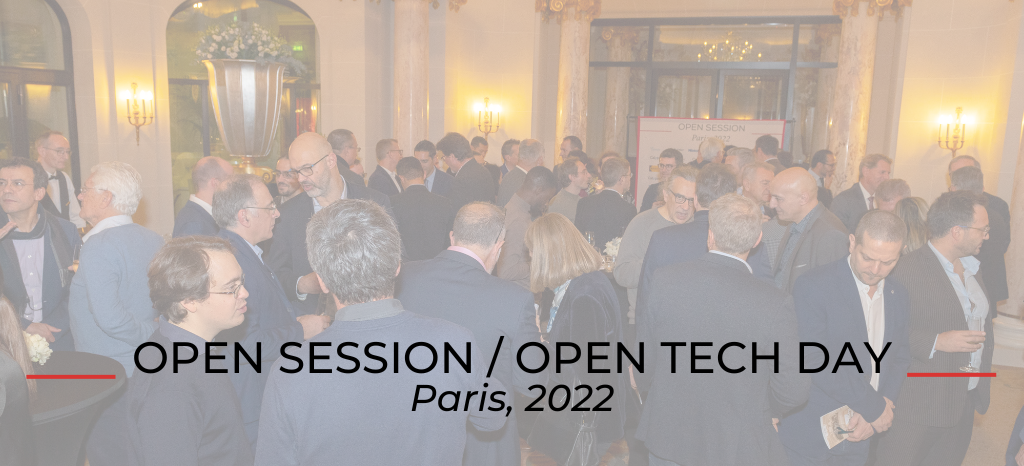 Open Tech Day recognises innovations and achievements across CNA community
CNA Chairman Gianluca Cuzzolin shares his thoughts from the day, including the launch of CNA's new Technical Document Library, the first meeting of the Calypso Market Committee, the inception of our Security and Quality Club, key Calypso development areas and the presentation of the 2022 Calypso Awards.
On 30 November 2022, Calypso Networks Association hosted its Open Tech Day in Paris for the first time in three years. The return of our flagship annual face-to-face event brought together industry stakeholders and members of the CNA community to gain a better understanding of some of the latest technical and strategic developments to the Calypso standard. We welcomed leaders from across the industry to connect, share, and learn about emerging use cases for open standards for transport ticketing.
In addition to technical workshops dedicated to Calypso products, mobile ticketing, applets, HCE, and Eclipse Keyple, the Open Tech Day showcased CNA's commitment to supporting members in their efforts to enhance the performance, security, and interoperability of their ticketing solutions.
Here are some of our highlights from the day:
The new Calypso Technical Document Library
The new Calypso Technical Document Library was unveiled at Open Tech Day. This portal is available at https://calypsonet.org and is designed to make it easier for users to access Calypso's technical materials, including specifications, presentations, guidelines, test plans, technical notes, user manuals and more.
Launch of the Security and Quality Club
CNA also announced the establishment of a body dedicated to analysing the security and quality of services related to ticketing information systems that are based on Calypso. Known as "The Club," this body is open solely to ticketing system managers (mainly transport authorities and operators) and its three main objectives are:
Collection of all operating anomalies, security problems and frauds reported by member networks, and monitoring.
Analysis of anomalies and frauds, and proposal of remedies in the short term (reaction measures) and in the longer term (prevention measures and sustainable solutions).
Organisation of exchanges with the manufacturers concerned and all the transport authorities and operators.
First meeting of the Calypso Market Committee
As new ticketing technology emerges and user expectations change, the ticketing ecosystem has evolved significantly. To meet these dynamic and rapidly changing demands, the Advisory Board has endorsed the creation of a Market Committee. The first meeting of the Market Committee took place during Open Tech Day, providing a forum for stakeholders to discuss and seek new ways for Calypso to actively expand its global market position, overcome perceptions of outdated technology, and pave the way toward wide-scale technology adoption across all mobility sectors.
The Market Committee welcomes any new participants to join its work. Get in touch with us to find out more.
After the plenary session, our team of experts also conducted a number of workshops for attendees, taking a closer look at key Calypso development areas:
The Calypso product families, including a deep dive into the functional and security aspects of Calypso Basic, designed as a highly secure, contactless and very low cost ticket

Mobile ticketing applet and HCE, including licencing, roadmap and upcoming evolutions for Calypso's mobile ticketing solutions

Eclipse Keyple, the first open-source SDK dedicated to contactless ticketing and access control applications

Terminals, including a walkthrough of APIs and the Reader Layer requirements, Calypso Layer requirements and Ticketing Layer requirements, as well as the terminal certification roadmap

Open SAM, including the phased development plan, technical feature and how the Technical Committee is helping steer its evolution
CNA Open Session and Awards
At the end of Tech Day, the CNA annual Open Session provided an opportunity for the entire CNA community to share experiences with other networks and celebrate the winner of the annual Calypso Awards.
The Calypso Awards ceremony is a unique opportunity to encourage innovation, which is critically important for the sustainability of the Calypso standard. The award recognises stakeholders that work hard to create new ticketing services and products that improve the passenger experience.
Best Customer Service
Secretaría de Movilidad de la Ciudad de México (SEMOVI CDMX) was awarded "Best Customer Service" in recognition of its transformation of public infrastructure in Mexico City. SEMOVI CDMX has championed Calypso open standards as a cost-effective way to help address urban inequalities by providing more users with accessible ticketing, providing excellent customer service in the process.
Best Innovation
Our second award saw HID Global win "Best Innovation" for its work in mobile ticking. HID Global uses Calypso's HCE (Host Card Emulation) offering for Android to create a solution that integrates multiple ticketing apps into a single digital wallet. Leveraging Calypso technology, this streamlines the ticketing experience for users into one easy-to-manage solution.
The entire field of candidates offered promising, innovative solutions in different fields such as mobile ticketing, new products for MaaS, enriching the range of Calypso cards, new sales and personalisation services, smart use of Calypso possibilities, easier deployment of ticketing based on Calypso with Keyple, and much more. Above all, each offering was dedicated to improving the experience of end-users and passengers of public transport.
We are already looking forward to 2023's Open Tech Day, so please watch this space for more details and plan now to join us towards the end of the year.