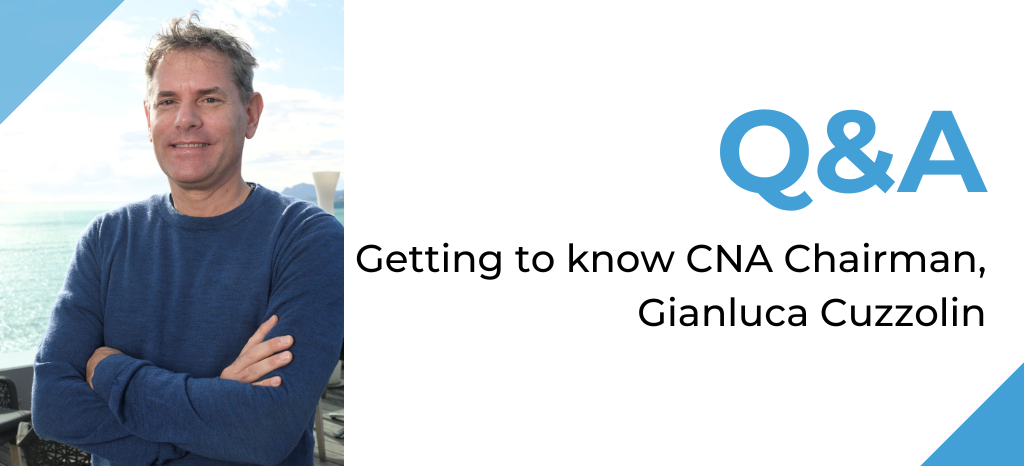 Q&A: Getting to know new CNA Chairman, Gianluca Cuzzolin
In our latest Q&A blog, we speak to Gianluca on why he accepted the role of CNA Chairman, what opportunities he sees for CNA and how he will ensure CNA continues to support and empower its members through the ever-changing technological ecosystem.
1. Please tell us a bit about yourself, and why you decided to accept the role of Calypso Chairman?
I believe open standards are the right way for public transport to evolve. I have long been involved in the transport ecosystem and have managed networks that ensure passengers are provided with a seamless service for over 25 years. I graduated from the University of Padua in 1994 with a degree in civil engineering that focused on transport services, and then following a brief time with the Italian Air Force, I began my career in transport.
Much of my experience has come from providing waterborne services to the people of Venice. Throughout my time with ACTV, I have managed multiple shipyards for taxi boats and logistics boats alike. In my other role as COO of Waterborne Mobility Systems, I am responsible for the implementation and development of operation schedules suitable for meeting customers' mobility requirements. Like many throughout the industry, we face challenges of limited resources and must ensure compliance with service contracts completed.
And of course, for a significant amount of my career, I have been involved with the activity of Calypso Networks Association (CNA). In 2016 I was a part of the ACTV team that submitted to the annual Calypso Awards, then following that I became deputy chairman of the board; a role that I held from 2017 until I took on the challenge of leading the organisation in 2022.
2. What do you see as opportunities for Calypso, and how can the association achieve these?
Public transport is a vital service for millions of people worldwide. Yet managing these services during difficult economic times (a global pandemic and cost of living crisis) has placed more pressure than ever upon public transport network operators and authorities. Calypso will continue to provide much needed support to networks and their passengers, enabled by open standards and open tools such as Eclipse Keyple, helping networks implement innovative, flexible ticketing – without relying on existing hardware suppliers, and without large price-tags and extended development time.
It is imperative that public transport maintains its essential services at an affordable rate, all while remaining sustainable against a backdrop of soaring inflation. CNA has the opportunity to help make this possible for networks, supporting modern, secure contactless ticketing through cost-efficient standards such as Calypso Light and Calypso Basic.
Meanwhile, passengers who are rethinking their private vehicle usage to save on fuel costs can rely on closely integrated door-to-door networks that integrate with Mobility-as-a-Service (MaaS) models to deliver unparalleled convenience and value.
3. Technology continues to present new disruptive opportunities for ticketing. Where do you see Calypso in this changing ecosystem?
Innovative technologies and approaches to ticketing can offer new ways for passengers to travel, but as these developments are rolled out, it is imperative that no one gets left behind. Even as entire countries plan nationwide open-loop payments infrastructures, such as in New Zealand, networks are fully aware that they cannot and must not forget about those who are unable or unwilling to use bank cards or mobile ticketing. We must avoid oversimplifying ticketing by assuming that a "one size fits all" approach is the answer to public transport's challenges.
Eclipse Keyple, an open-source software development kit (SDK) that CNA developed and donated to the ticketing community, helps networks create bespoke solutions that fulfil the needs of their networks and passengers without enforcing a strict binary choice of either open or closed loop.
Open, universal and completely free to use, Keyple empowers ticketing developers to innovate and create advanced ticketing software for terminals quickly and without the heavy price tag or detailed knowledge on ticketing technology.
4. How will Calypso continue to support members?
CNA is committed to providing standards that are developed by the public transport community, for the community. We empower our members to take control of their ticketing network by giving them the tools they need to create secure, interoperable ticketing. We also work to remove fragmentation between ticketing standards, helping to create a secure baseline on which stakeholders can build.
Through our rich programme of in-person and virtual events, training and expert support, CNA facilitates the exchange of ideas, experiences and innovations among the transport ticketing community. This is helping to advance systems that support seamless ticketing, championing open standards that provide reassurance to stakeholders that know they can support and evolve their ticketing systems in a cost-effective way for years to come.
5. What aspect(s) of the CNA community has/have impressed you most so far?
CNA has a dynamic and active community of members all dedicated to enhancing transport ticketing. The association brings together the brightest minds within the transport and mobility community to share their experiences and expertise with each other to engender innovation. This supportive and collaborative environment allows members to raise any problems they are facing, or share any innovative, successful use cases with other networks. These can then be addressed for the benefit of the entire global ecosystem, not just a handful of PTOs and PTAs.
This collaborative approach was essential during the pandemic, during which time our members were incredibly willing to go the extra mile to support their fellow ticketing stakeholders. Many of the challenges that members faced were commonplace, so sharing advice and insight on managing the unprecedented issues proved invaluable, allowing CNA to guide and support its members through this difficult period.
CNA has always been focused on the final user experience. Calypso technology is designed for the transport ticketing community, by the transport ticketing community. It is this founding principle, which is still our guiding ethos today, that allows CNA to focus on delivering the best possible end-user experience. By building from open standards, networks can make sure they retain control over their ticketing solution, allowing them to put the consumer at the heart of decision making, thereby ensuring that they create beneficial solutions for all involved.