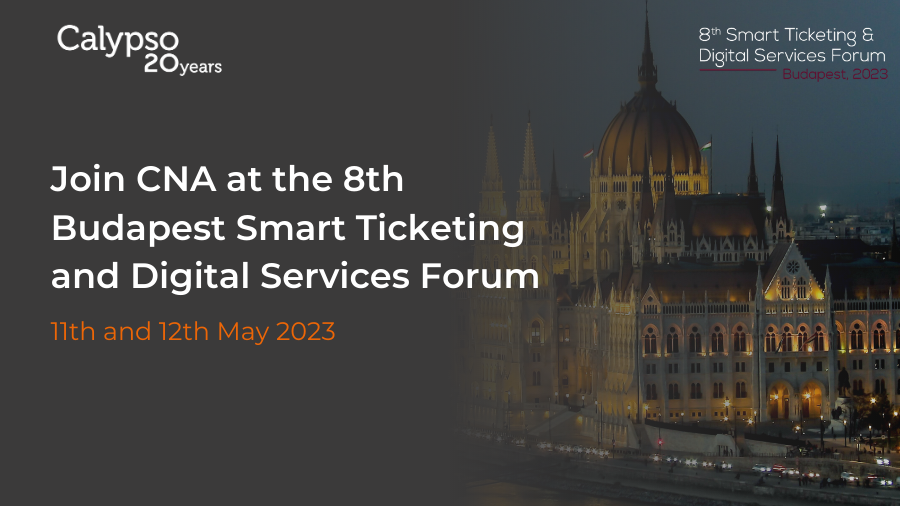 Learn about the future of ticketing at the 8th Budapest Smart Ticketing and Digital Services Forum
By

NAGAMOOTOO Nathalie

In
Calypso Networks Association invites you to the 8th Budapest Smart Ticketing and Digital Services Forum, taking place 11th and 12th May 2023 at Ritz-Carlton Hotel.
We are living in a world of complex challenges. 2022 highlighted the scale, interconnectivity and consequences of a range of shifting factors including energy, climate, biodiversity, health, democracy and more. These challenges all have a profound impact on transport ticketing.
The Budapest Smart Ticketing and Digital Services Forum is dedicated to discussing the critical role ticketing plays in meeting these unique challenges. On 11-12 May 2023, over 100 key decision makers, CEOs, institutional and civil society actors and more stakeholders from digitalisation, urban mobility and services, will meet in Budapest to analyse the innovative digital tools and approaches for transport and mobility.
The Forum will explore and debate the following key themes and more:
How ticketing has been reshaped in a post-pandemic world
Creating new, innovative Mobility-as-a-Service (MaaS) networks that integrate with existing public transport networks to offer fully end-to-end travel experiences
Climate neutrality and the ecological responsibilities for transport providers
State-of-the-art mobile ticketing solutions
The role of ticketing in creating and shaping smart cities and urban evolution
Confirmed speakers and influencers who will share their experiences at the Forum include: European Commission DG MOVE, UITP, Smart Ticketing Alliance, BKK (Budapest Authority), City of Szeged, City of Miskolc, Secretariat for Public Transport Belgrade, Ministry of Transport Romania, City of Oradea, City of Brasov, ATM Barcelona, TPBI (Bucharest authority), CLUB Italia, IT Trans Polska, Metamorphio, Fairtiq, Sigma Spa, Awaait,  Austrian Railways ÖBB, Hungarian Railways MAV Start, GYSEV, Wizway, TPER Emilia Romagna, AVM Venice and more to come!
You can find out more about the Forum here: https://www.calypso-budapest-event.org/
Register here: https://bit.ly/3ZabrHT
Interested in sponsoring the event? Learn more about our sponsorship packages here: https://bit.ly/3IB0mbA
We look forward to meeting you in Budapest in May!