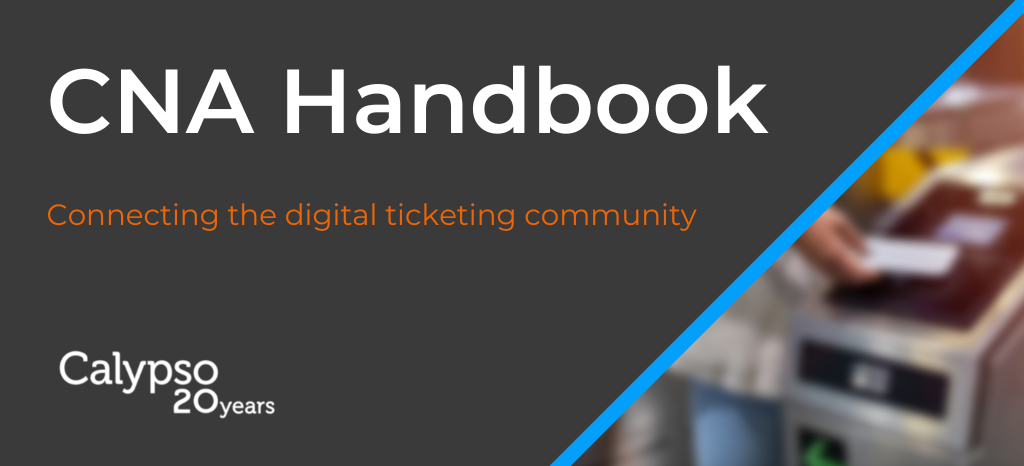 CNA Handbook: Connecting the digital ticketing community.
By

NAGAMOOTOO Nathalie

In
As the governing body of Calypso technologies, CNA empowers transport operators, authorities, and mobility providers to achieve simple, secure ticketing built on open standards. For over 25 years, Calypso has unlocked a smarter and more inclusive contactless ticketing experience for transit networks across the globe.
The CNA Handbook provides an extensive guide to the role, offering and governance of the Calypso standard. It discusses how to best implement Calypso technology, before exploring total cost of ownership, including how Calypso technology helps transport operators and authorities control finances throughout a ticketing system's lifecycle. It is therefore a must-read for both existing and potential users of the technology.
Here are just three reasons why Calypso is so trusted to deliver public transport ticketing:
Calypso is simple and accessible to all. It is open and flexible to keep pace with change, and sovereign so that networks are not dependent on third-party interests.
Resisting cyberattacks for more than 20 years, Calypso enables security, agility and innovation. It is economical, durable and adaptable to the permanent evolution of technologies, integrated mobility and Mobility as a Service (MaaS).
As a community of transport and mobility authorities, operators, service providers, technology manufacturers and transport consultants, CNA is a large ecosystem built on the foundations of open standards and dual sourcing at all levels, making it uniquely resilient at the electronic components level.
Ticketing remains a crucial gateway to travel and ensures the right to transport for all. Download the CNA Handbook now to learn more about CNA and how to implement future-proofed contactless ticketing for more sustainable public transport.