CNA 20th Anniversary: some technologies are more secure than others.
As many of you know, 2023 is the 20th anniversary year for CNA. To celebrate, we are hosting an exclusive showcase of original artworks that you can discover each month, accompanied by anecdotes that have marked the history of Calypso's development.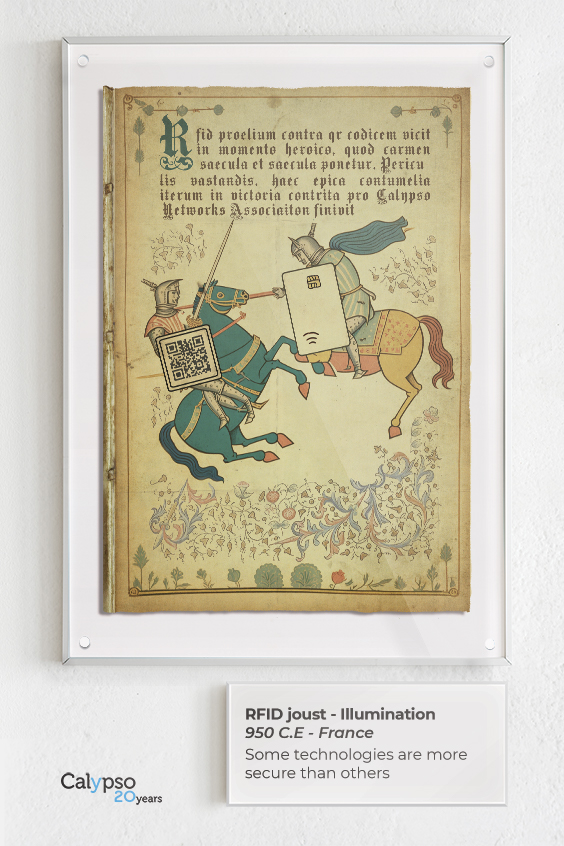 Oyez! Oyez! Oyez! Please enjoy the latest piece of art from our 20
th
anniversary exhibition. This month, we are showcasing a rare and unique medieval illuminated manuscript! However, this illustration isn't just a simple joust. It also represents how the strength of Calypso's technology has triumphed over its opponents, guaranteeing safety against hacking from ill-intentioned foes and protecting both its kingdom and customers. It is no secret that some technologies are more secure than others, even in the Middle Ages. Let's not forget it today! Long live Calypso!
April's anecdote: The origin of our name!
Do you know what Calypso means? When and how was the name chosen? It all started in Venice in 1997. During the closing meeting of the first European ICARE project, which took place between 1995 and 1996, the members of this group decided to continue their cooperation by collaborating on a new project that would further develop the uses for a contactless pass. As all projects must have a name, a brainstorming session took place between the participants to find it. At the end of the session. It was
Jorge Vieira da Silva
's proposal, the coordinator of the Icare and Calypso project, that was retained. CALYPSO was the chosen name: An acronym meaning
C
ontact
A
nd contac
L
ess technology
Y
ielding a
P
latform for
S
ervice
O
peration. The Calypso project took place over a little more than two years, from January 1998 to April 2000.