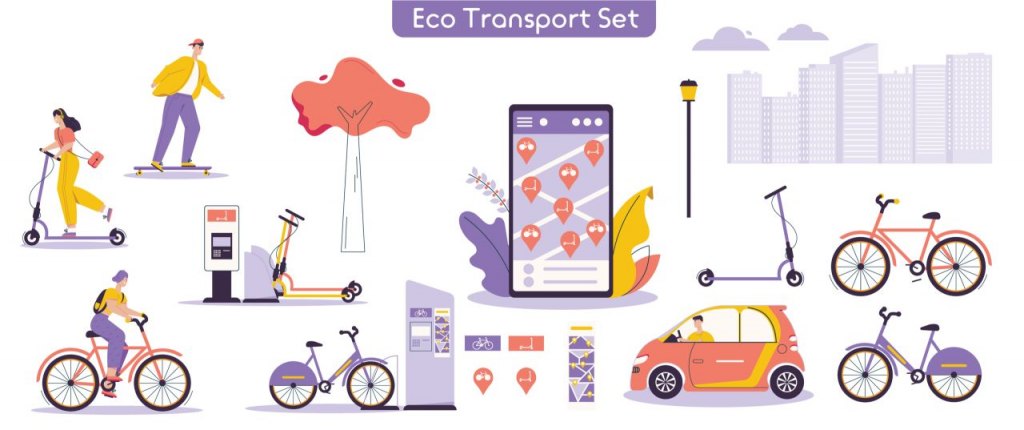 Calypso: 25 years of innovation in transport ticketing
Calypso Networks Association (CNA) was to support all transport and mobility operators deliver the best possible ticketing experience to their customers. Ever since the first iteration of Calypso technology launched 25 years ago, we have been a trusted source of support, enabling members of the transport and mobility community to future-proof their networks with advanced contactless ticketing. As we enter a new age – the time of Mobility-as-a-Service – and celebrate quarter of a century at the forefront of transport ticketing, we reflect on some of the biggest transformations during this time.
25 years of transport ticketing innovation: a Calypso timeline
(Click image to expand)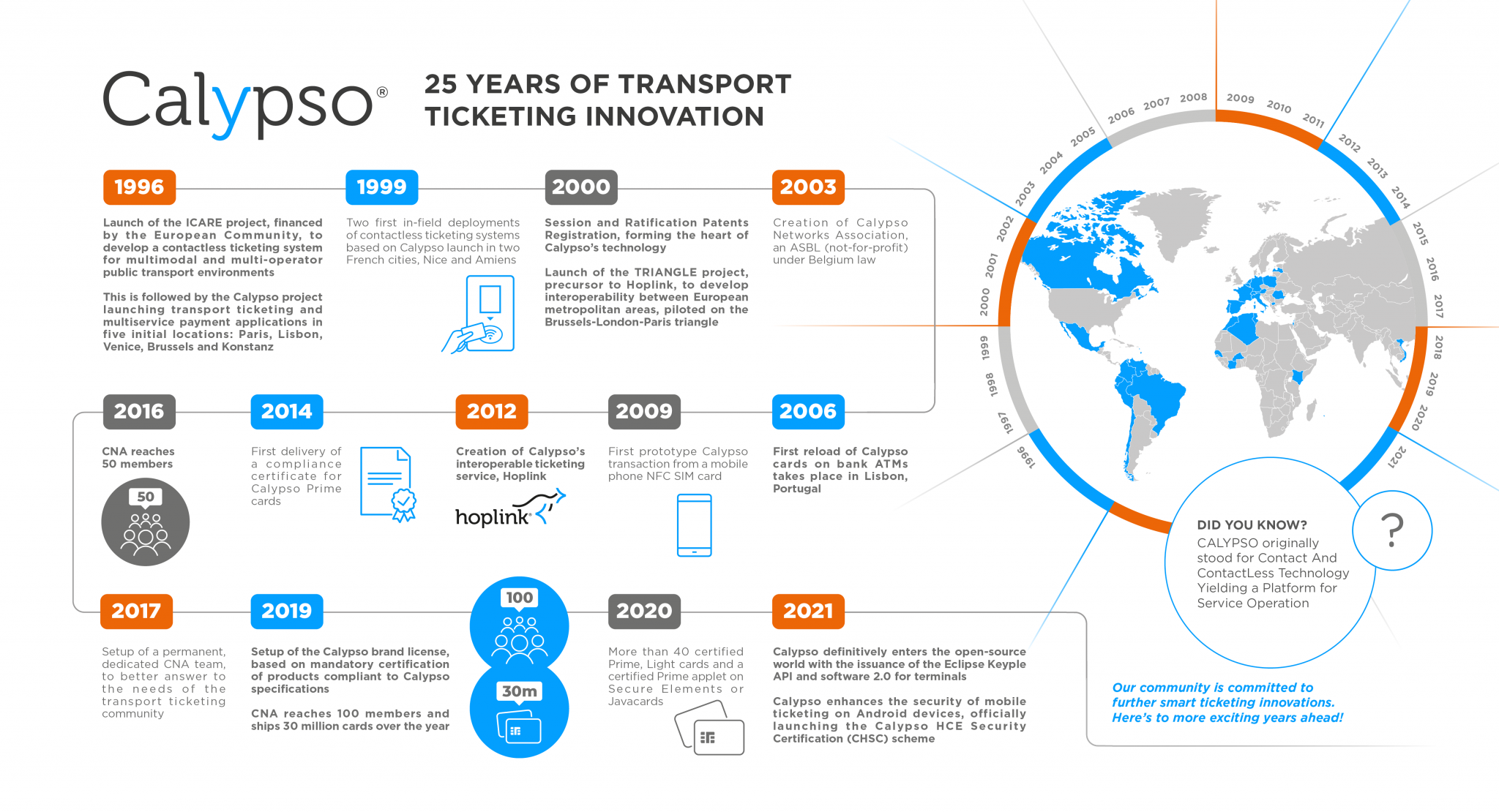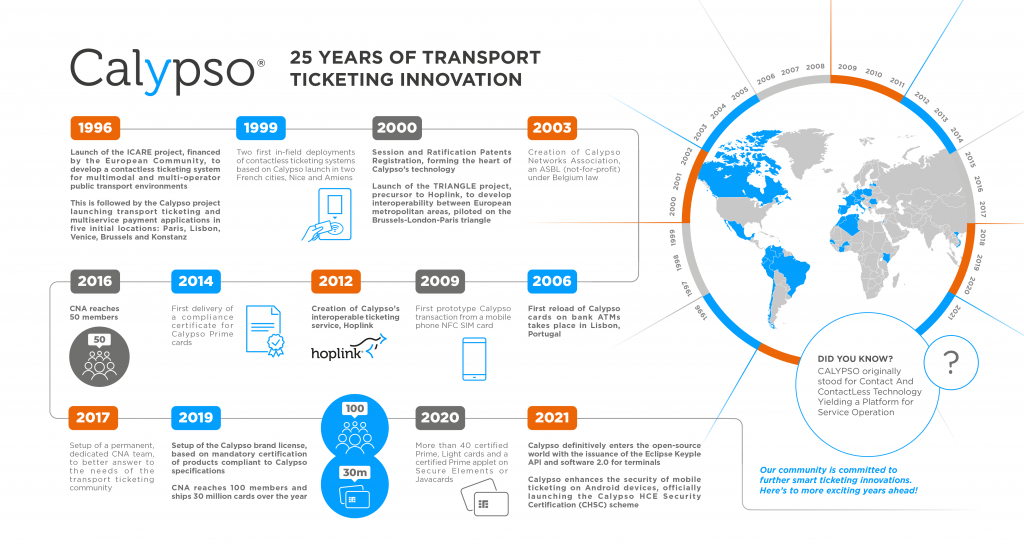 Where it all began: moving away from paper tickets and magnetic stripes
In the early 1990s, many transport operators and authorities had to renew their existing ticketing systems, which were based on paper and magnetic ticket technologies and in a way that made them independent from providers.
A group of transport operators and authorities from Belgium, France, Germany, Italy and Portugal decided to join forces to explore a ticketing system that would provide passengers with convenience (i.e. speed), while offering a high level of security.
This collaboration resulted in an advanced Contactless Pass solution, significant advances in smart ticketing, and the emergence of standards: specifically the contactless ISO 14443 and the CEN 1545 ticketing data standard.
The evolution of open standards in transport ticketing
Contactless ticketing has since helped drive a revolution in payments. Answering first to the need of transport networks to enable customers to pay and move through terminals or ticketing gates quickly, banks and mobile phone manufacturers recognised the value of NFC (Near-Field Communication) technology, which has now become commonplace on payment cards and in smart phones (and other similar devices).
The first deployments of contactless ticketing systems based on Calypso technology both took place in 1999, in Nice and Amiens, France. The following year saw the launch of the TRIANGLE project, a precursor to Calypso's interoperable ticketing service Hoplink, which was piloted on the Brussels-London-Paris triangle.
In 2003, Calypso Networks Association was created to oversee the evolution of the standards and ensure the transport community had a say in its own future. A series of milestones followed: the first ATM-reloadable card launched in Lisbon in 2006; the first prototype Calypso transaction from an NFC-capable phone debuted in 2009; and Hoplink launched in 2012.
Future-proofed technology that puts networks in control
By 2016, CNA had 50 members from the transport ticketing community. A dedicated, permanent team was set up to support them as the technologies continued to evolve. To ensure high levels of trust in the security and functionality of Calypso's open standards, mandatory certification was established in 2019, as part of the Calypso brand license setup.
In the same year, CNA membership grew past 100 members and 30 million cards were shipped in a single year. Further certifications followed for the growing range of products based on the Calypso protocol (Calypso Prime, Calypso Light, and Calypso for Mobile on iOS and for Android phones).
To help the transport community evolve smart ticketing and make mobility-as-a-service (MaaS) a reality, Calypso collaborated with the Eclipse Foundation to launch Keyple version 2 in 2021. The open source technology significantly lowers the time and cost to develop and integrate infrastructure upgrades, releasing resources to focus on improving the passenger experience.
Now in its 25th year, Calypso technology continues to serve the community: Calypso Basic – which provides the same security level as Calypso Prime and Calypso Light – will launch later this year to enable networks to benefit from a highly secured contactless paper ticketing. It enables low installation and integration costs, bringing an efficient solution to single-trip usage.
Our mission continues to be to serve the entire transport ticketing community, enabling MaaS for all, providing flexible ticketing options that help operators and authorities deliver the best possible passenger experience, and ensuring that our sector is prepared for the exciting transformation in public transport that we'll see over the next 25 years!