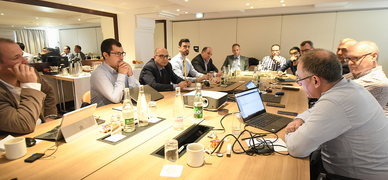 A message from the Chairman: CNA's priorities for 2021
New research suggests that up to one-third of passengers in urban areas stopped using public transport in 2020 due to the pandemic. This statistic will not surprise the public transport operators and public transport authorities who have worked tirelessly to prioritise public safety and remain resilient against declining passenger numbers over the last 12 months. There is now an urgent need to find a path to recovery and encourage the safe return of passengers to the trains, metros and buses.
This context has been central to establishing Calypso Networks Association's (CNA) strategic priorities for the next 12 months. Our role – to bring members of the transport, mobility and services community together to control and evolve the contactless ticketing ecosystem through open standards – has never been more critical.
The opportunity for contactless ticketing
Contactless ticketing has been an invaluable tool for navigating many of the pandemic restrictions to date: it supports crowd management, reduces unnecessary interactions and minimises contact points. Yet its benefits are far-reaching beyond the pandemic, and implementing open standards is integral to give transport authorities and operators control over their ticketing network.
At our recent General Assembly, we came together with our members to discuss CNA's 2020-2023 mandate and elect CNA's Board of Directors. We are truly excited about what we can achieve by working together and we are committed to helping the public transport sector recover from a challenging year.
As part of this, I want to share more details on CNA's priorities for 2021. These are:
Technical advancements. Alongside ongoing maintenance enhancements to our existing technology, the team continually seeks opportunities to ensure the Calypso standard is ahead of future user needs. The newly released Eclipse Keyple v1.0 is a clear example of this. It demonstrates true innovation in open source software, makes the Calypso standard even easier to use and reinforce its openness and ability to meet the MaaS requirements.
Trust and transparency. Defining, maintaining and ensuring the use of the Calypso certification programme is vital to create a trusted foundation and confidence that Calypso ticketing solutions are sustainable, scalable and compatible today and in the future. Our recent eBook is a helpful resource to learn more. With a full certification programme available for Calypso cards, we are now creating a certification process for terminals, based on the interfaces of our Keyple API. This will further extend Calypso's interoperability.
Educating and connecting the contactless ticketing community. In promoting the Calypso standard, we are bringing members of the transport, mobility and services community together to benefit the entire ecosystem. CNA continues to provide a unique opportunity to exchange ideas, experiences, and requirements within a supportive and collaborative environment. During the ongoing pandemic, we will deliver a complete programme of webinars to stay connected and share important information, with the strong hope that we will be able to meet in person before the end of the year. Delivering tangible value to members is of the highest priority.
2021 has huge potential for the association and the year is already off to a strong start. The recent news that you can now top up your Navigo card on an iPhone marked a huge industry milestone and an important development for the Calypso standard. We are also pleased to report a major endorsement for Calypso technology in Greater Paris: Comutitres has tendered for the supply of approximately 60 million Calypso cards, which are to be supplied for up to the next eight years.
With strong foundations in place, we look forward to working with our member community to achieve our collective goals. To stay up to date with CNA's latest news, please subscribe to CNA's newsletter to receive monthly updates on the association's progress.