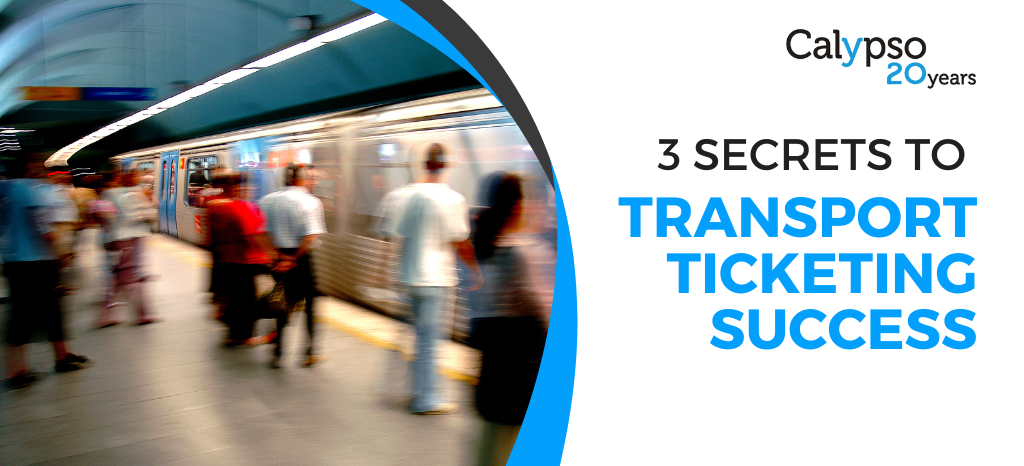 3 Secrets to Transport Ticketing Success
Read the Calypso Handbook: Connecting the Digital Ticketing Community By Philippe Vappereau
It is important not to underestimate the role public transport and the evolving mobility sector plays in our communities. It is at the heart of sustainable development in urban areas; it connects rural communities, family and friends; and helps fuel economies by enabling workers, students and tourists to get from A to B.
Among all the components of a transport system, ticketing plays a special role. It is the gateway to travel and ensures the right to transport access for all. Ticketing also partly finances operations, contributes to the appeal of public transport and ultimately enables authorities to facilitate and implement their mobility policies.
With the stakes so high, and the delivery so fundamental to people's lives, how do transport operators, authorities and those delivering mobility services ensure transport ticketing systems are successful?
There are three key secrets to delivering sustainable, effective ticketing systems:
Ticketing needs to be simple and secure.
A ticketing system must be intuitive, efficient and ergonomic. Using technology that is familiar, user-friendly, widely adopted and proven in busy transport hubs is imperative to making sure that the system is accessible for all.
A ticketing system must also support multiple different types of fare media and should not exclude people based on their accessibility to technology or bank accounts. This means accepting cash, cards and smartphones, wearables – building a platform that can integrate current and new payment and access methods is crucial.
Systems need to be agile to market changes and technology evolution.
Ticketing systems must be open and flexible to keep pace with change. This means that they need to be scalable and easy to upgrade cost-effectively. For example, as we continue to see more and more digitalised mobility services come together through such as Mobility as a Service (MaaS) and multiservice city and citizen cards, the ticketing system must be able to be a part of these wide-reaching solutions.
Technology should also be widely sourced through secure and diverse supply chains to mitigate issues of component shortages as this can lead to production delays and disruptions. This is also important to contain costs and ensure new advances can undergo competitive tender processes.
Those responsible to deliver ticketing systems need to have control and be autonomous.
With pressure on public transport operators and authorities to deliver a successful mobility strategy, they need to ensure that they have a sovereign system, which they can control. Having restrictions or demands placed on them by financial institutions, GAFA or manufacturers and other commercially driven parties can bring significant limitations.
Why Calypso?
Calypso empowers transport operators, authorities and mobility providers to achieve a simple, secure ticketing system built on open standards. This means that it is flexible to change, and above all else, independent. It has proven to deliver success for deployments all around the world, as shown in our recent eBook; Calypso Live.
The evolution of Calypso is defined by the transport community for the transport community.
Using near field communication (NFC) technology – which is proven, secure and quick – Calypso has resisted cyberattacks for more than 20 years.
It is supported by a large ecosystem of card and ticketing companies and is based on dual sourcing at all levels, making it uniquely resilient at the electronic components level.
The open standard is not tied to any manufacturer, vendor or external influencer, making it both economical, durable and adaptable to the ongoing evolution of technologies, integrated mobility and MaaS.
Want to learn more?
 Calypso Network Association (CNA) has published an extensive handbook on the role, offering and governance of the Calypso Standard. From the cost of ownership and how Calypso technology helps transport operators and authorities control finances throughout a ticketing systems lifecycle, to implementing the technology, the document is a must read for both existing and potential users of the technology.
Consutants, integrators, authorities and regulators will also benefit from understanding the vast value Calypso delivers, how it works and how it is governed.